How to 'get stuff done' – now!
Blitz is not a like a boring, long-winded Meeting.
Nor is it a formal, infrequent Brainstorming session.
Imagine a high-energy, short, focussed session with a few people.
It's an approach that leaders, groups and teams can use every day to get important stuff done in a more creative, energising & agile way.
What is a Blitz?
The basic idea is for the Blitz Leader to grab a few people and focus on a single problem, barrier or decision and Blitz it.
It's fast, fun, short (i.e. 2 to 20 minutes) and energising
Blitz can be used by 2 – 6 people for any purpose and held at any time (anywhere).
It's a simple, practical way for any team to generate extraordinary results and to beuild a more agile, creative and productive culture.
Have a look at one application of Blitz – Idea Generation and feel the energy & creativity of this approach.
What can you Blitz?
Blitz can be used to solve an everyday problem, bounce a new idea off others, role-play a future difficult conversation, overcome a blockage, evaluate an idea, develop a way to test a new approach or help make a decision.
In short, you can Blitz almost anything.
So start making a difference today.
It's a way for leaders and tea members to get started, restart and accelerate progress.
Start Blitzing – you will amaze yourself what you can achieve in the next few minutes!
Want to know more? Then contact Dr Ken Hudson the Inventor of Speed Thinking and Small Wins Innovation.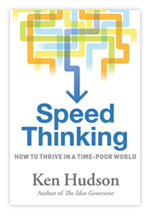 Collaboration is the key to more creativity. Yes and, our creativity has to be more productive. Yes and, to be more productive requires greater creativity!