I am a strong believer in experiental learning.
Do – reflect – change then redo.
My passion is to develop every group and team's ability to create, innovate and solve problems @speed.
This is why I have developed numerous tips, tools and processes to empower and energise groups and teams of all shapes and sizes.
I like to work with leaders, groups and teams @Speed!
Everyone is time-poor so working this way maximizes the return on investment and forces people to think on their feet in a more real-world way.
There is no staid, classroom type learning here!
For example, I have invented an accelerated idea generation and problem solving process called Speed Thinking.
The tool of which is Ideas Blitz. This is a perfect example of my learning design principles of learning by doing, immediate impact, high energy and practical.
Everyday Creative Thinking & Innovation for every group & team!
I have found that saying to groups and teams go and be creative or innovative for example, is not that helpful.
Because they do not know how to do this.
Yet if you give people a process or tool you can empower them forever.
This is why I have invented a 5 step process which I call Small Wins Innovation for example and numerous creative thinking tools.
They provide a structure that leaders can use again and gain with confidence and can leverage impact and performance.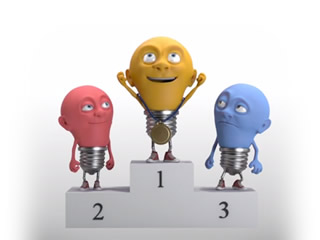 I have developed a number of videos of my creative thinking tools. This means that any creative thinking training for example, can be reinforced again and again.
"The real danger is business-as-usual thinking.
Leaders need to create the new, reinvent the current and disrupt the past."
JOIN OUR COMMUNITY OF ORIGINAL THINKERS
and receive a free Revenue Growth ebook and regular insights and tips to grow your business and yourself.